Soller Studio
Borja and Steffie have roots and family in the Soller Valley. This is their place in the universe and where they knew they wanted to raise their family. This husband and wife team developed their skills in sales, languages and real estate in their life in the Soller Valley and also in Madrid. Ten years in Soller real estate have taken them to the place where they knew that opening Soller Studio and selling their passion to like minded people was the realisation of their dream. The team is completed with Maria who is a true professional in this world and with whom they have worked for the past four years.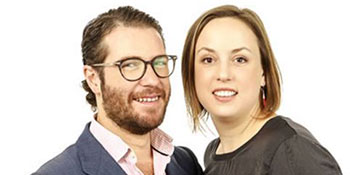 Soller Studio speak your language whether it be Mallorquin, Spanish, English or German. They understand the complexities of purchases in the Soller Valley and the rules of engagement for buying in the rural and urban landscape which surrounds them. Borja followed family tradition in his education and acquired a Law degree before specialising in Real Estate which gives him a true understanding of the process.
Soller Studio specialise in relationships with their clients and all the professionals involved in completing the sales and renovation process. Soller Studio offer properties in all price ranges and have access to premises that are not on the market but are known to the team through their local contacts. They assist their clients in the buying and selling of properties and also manage the process of Long Term Rentals. This happens because they know so many owners personally having built up a relationship over many years.
Soller Studio look forward to being the Estate Agent of your choice and to guiding you through the process of realising your property dreams and expectations.