Tia Tula
Fashion, shoes, jewellery and home decor.
The pedestrianised street in the heart of the Port of Soller is the home of TIA TULA. A shop that has served visitors and locals alike for the past eleven years. From small beginnings this place has grown in both size and vision. The mission of TiaTula is to bring home the beautiful, the interesting, the quirky and the fashionable and house them in the beauty of a lovingly created space. Francis has used furniture and pieces of wood to create the shop fittings and shelving. She has a vision for sustainability and use of the world's resources. She has much pleasure in making the space come alive and be a fine backdrop for all the interesting items on sale.
Leather and candles from Mallorca, shoes from Alicante, Surkana and b&g jewellery from Madrid, materials and cotton from India. These and much more are to be found in TiaTula. A constantly changing stock means that customers are encouraged to visit frequently to see the latest arrivals. TiaTula welcomes children to sit and draw and play while their parents shop. She has designed a special corner for them to be content and enjoy the TiaTula Children's Zone.
For Francis TiaTula is an evolution – she is always on the look out for new designers and interesting products to fill her shelves. The shop is appreciated by visitors but it is not a conventional tourist shop. It contains many things that visitors love to take home to remind themselves of wonderful holidays here but it will always be a purchase of quality.
Tia Tula is part of the shopping revolution that exists in the Port of Soller as it develops into a shopping area of choice for the whole of Mallorca. This fact means that the shop is open year round. Winter sees opening hours of 12 – 5 with a Monday closure from November to January. The rest of the year the shop is open every day from 11 am till late.
The TiaTula shopping experience awaits your visit and your delight.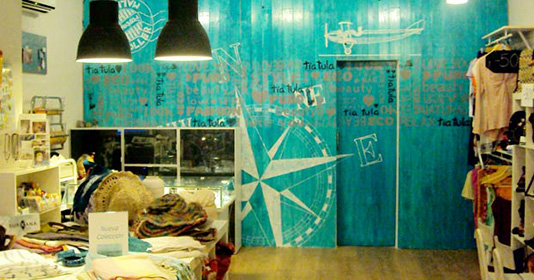 LOCATION
Port de Soller, C/ Jaume Torrens, 11
in the pedestrian zone
OPENING HOURS
from 11 a.m. - 8 p.m. until Oct 31st
Nov / Dec noon – 5 p.m., (Mondays closed)

WE HAVE
Ladies and mens fashion
Shoes, Bags, Scarves...
Gifts & more...
Mallorcan fashion brand ROCKBEACH
Jewelry
Beach wear
Original home decor items
HOW
---
Sign up for the SollerWeb newsletter: