Aires de Japon
Fine Japanese dining and Sushi Bar
Japanese Fusion describes this restaurant and Fusion is the way the owners got together in this venture. Alberto and Enrique both had Japanese establishments in Santa Catalina Market in Palma. They were very well known there and had a great following for their sushi and inventive take on their Japanese menus. How they got there and now to Soller is a very exciting story of two separate journeys that resulted in 'fusion'.
Alberto is a chef, trained the Balearic University and aiming high for quality and experience. The fine restaurants of Central London had years of Alberto's enthusiasm before he returned to Spain with what he had learned. Then the ambition took him to Shanghai where he took the Spanish cuisine to the Chinese. He learnt much while he was there and learned much of the tastes of China. Travels to Japan and understanding the food led him back to his home base in Mallorca. He was ready to put it all into the 'fusion' melting pot in Santa Catalina Market.
Enrique is the Sushi man and he learnt his trade from a chance encounter in the back of his taxi cab. Early days working his way through the kitchens of Palma hotels led to a career as a Taxi driver. One day an elderly Japanese woman was a passenger and they got talking food. She was one of the greatest Sushi makers of her generation and she taught Enrique his craft. This course led to other courses to refine his Sushi for the new market and interest in Palma and beyond.
Alberto and Enrique worked the Santa Catalina market until the decision to open their first joint venture in Soller in the Autumn of 2017. Aires de Japon was created in Soller but owe much to the fusion life experiences of its two passionate owners. They are delighted to be here in Soller and invite all to come and taste the beautiful food of the Chef and the Sushi Man.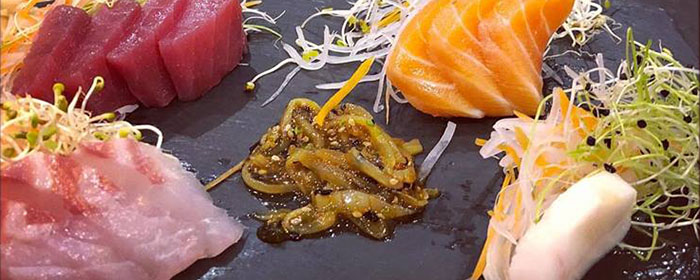 LOCATION
Calle Romaguera nº 17, Soller
For reservations please call +34 655 66 30 02
Open for:
Dinner 1900 - 2200 Monday to Saturday
Lunch: 1300 - 1500 Tuesday to Saturday
Closed Sunday
A great place to eat with friends
Table Service with Outdoor seating area - Takeaway also available please enquire
Full Japanese Menu and Sushi
HOW
---
Sign up for the SollerWeb newsletter: