Cafe Paris
A friendly cafe serving great breakfasts and fresh mediterranean food right on the Square in Soller.
Everyone knows Cafe Paris in Soller - the Tram passes its door and the road through Soller has to turn left right outside its door. Sit in the terrace of Cafe Soller and you are in the heart of our world. It seems as though no-one enters our City or leaves without having to walk or drive by this place. This is why it is at the heart of Soller and has been for many years.
Did you know that Cafe Paris only closes from midnight to 7 am and so it is there for you all day long. The ultimate Cafe/Brasserie starting its day with Mallorquin or English breakfast then on to the croissants and ensaimadas - all cooked locally. Coffee and the hugest range of speciality teas to get you through the day leading on to that early evening glass of wine. Excellent food is served all day long and by the evening the atmosphere changes and it becomes a sought after local restaurant.
Many business meetings and held over coffee and drinks and that is why Cafe Paris has installed WIFI to assist in the thought processes as important decisions are made.
Cafe Paris is at the heart of the Soller community and has a unique selling point - it is open all year round. No winter closure for this hub of the local community. they are proud to serve you 52 weeks of the year.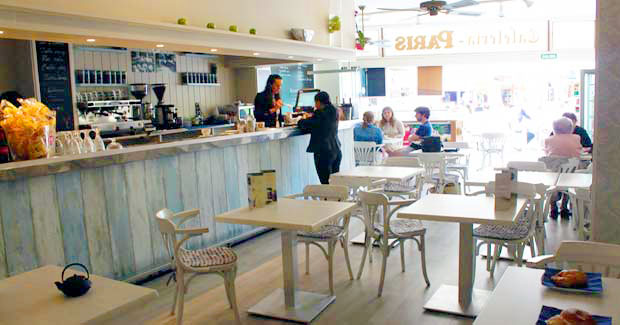 LOCATION
Soller Main Square, Mallorca
OPENING HOURS
Every day 7:30 hrs - 23 hrs Closed January 10th - Februrary 14th 2017
WE HAVE...
Central Soller Location
Mallorcan Specialities
Great place for breakfast
Varied Menu
Great cake selection
Free WIFI
Friendly and Caring Staff
Local and Tourist Clientelle<
Open all year
HOW
---
Sign up for the SollerWeb newsletter: