Es Canyis
A family run restaurant since 1954 - right on the beach of Port de Soller
This beautiful restaurant opened its doors onto the Repic Beach in 1954 when the original cane roof gave its name to the restaurant. In those days it served snails, typical Mallorquin food and drinks. For over 60 years the little cane structure grew in stature, size and cuisine. The current Chef, Victor is the great grandson of the original owner. He knew very well how to cook the snails but when it was his turn to take over the kitchen he was sent off to San Sebastian, to the three Michelin starred Arzak restaurant, to learn from the masters.
Es Canyis has moved with the times and by the early 70's built the building that houses the restaurant and the upstairs function room. Its calm understated elegance is a testament to the Es Canyis team and the way they like to work. They love their old customers who beg them not to change anything on the menu. They are proud that all the old favourites are still represented. Victor is given his creative opportunities at weekends when the additional menu is his own creation and augments the usual choices.
Weddings, communion parties, celebrations of all kinds are held here in their first floor room overlooking the sea. Catering for up to a hundred people they have welcomed many to their special brand of hospitality.
The Es Canyis desserts are known throughout Mallorca. The Isles de Flottante, the homemade cheesecakes, the fruit tartlets are all made by Anais. As a child she stood on a stool in the kitchen watching her grandfather make exquisite French desserts. She just loved to be part of it and she now controls the daily production of the most fabulous home made dessert menu for miles around.
The restaurant, the functions and the contributions to the tourism effort of the Soller Valley is in the hands of Patrice, Angeles and Annette. They are a group who promote all that is good about the food of the Soller Valley and bring more and more people in to taste it. As the grandchildren of the original owners they know the legacy that is in their hands.
Es Canyis is at the heart of the gastronomic success of the Port of Soller and they look forward to welcoming a new generation to join old friends at their table.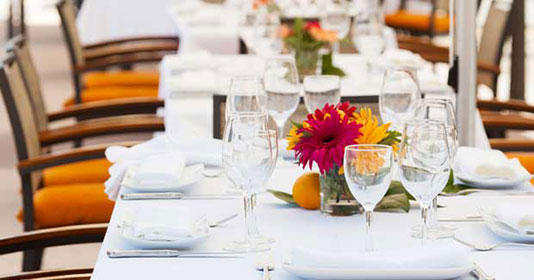 LOCATION
Port Soller, at the far side of Repic Beach
WE HAVE...
Fantastic Views over the sea and beach
Typical mallorquin food and drinks
Additional creative weekend menu
The possibility to cater for weddings and events for up to 100 people
First floor room, overlooking the bay
Exquisite desert menu with the famous Flotante
Friendly staff
HOW
---
Sign up for the SollerWeb newsletter: