Mallorca Dream Homes
more than 30 years experience of selling property - their focus is to find your perfect home.
Mallorca Dream Homes is an independent Real Estate Agency situated in Sóller, on the beautiful north-west coast of Mallorca.
The service, personal attention and support that we provide to our clients is our top priority. We accompany every transaction from the initial property acquisition through the sales procedure and the sales contract - Our owners and clients are updated on every step throughout their journey and in their own language.
The North West coast of Mallorca is beautiful with mountains, picturesque villages, deep blue sea, a friendly vibe and all the amenities to make it a top location to live. Property ranges for casitas, or mountain properties, in tranquil wooden enclaves, to majestic fincas looking out over the turquoise mediterranean. The choice is yours and we are here to help you realise what property is the right one for you and then lead you through the process of a purchase here in Spain.
Be you looking in Sóller, Fornalutx, Biniaraix, Port de Sóller, Deia, Valldemossa, Banyalbufar or Estellencs, our knowledge will help you find your ideal location. If you are looking to renovate the property we can put you in touch with surveyors, topographers, lawyers, interior designers, decorators, architects, and builders. We are here to help and be your friend in this exciting time.
Soller is our home, and once we show you the delights of the Tramuntana region and the varied properties on offer we are sure that you will fall in love with this area and want to make it your future residence.

PROPERTY OF THE MONTH
Sunny new built villa with pool and garage in Port de Sóller
4 bed / 4 bath
1.590.000 € (click photo below)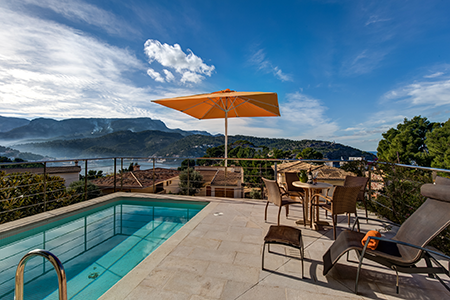 LOCATION
SOLLER - Carretera del Desvío, 62
WE HAVE...
Languages Spoken: English, French, German, Romanian, Mallorquin Spanish, Dutch
Rental Department
Personal Support
Properties updated daily
Locals with knowledge of the area
HOW
---
Sign up for the SollerWeb newsletter: