Mallorca Gold
The name in Real Estate for the Soller Valley.
Mallorca Gold are the representatives of Knight Frank on Mallorca and are proud to welcome their discerning clients here.
Two of the most experienced Estate Agents that Soller has to offer, Jaime Roig and Barbara Helwig, are in charge of the Mallorca Gold office in Soller covering the whole west coast from Estellencs to Escorca. The service they can provide is unsurpassed as they know this area intimately having been at the heart of local real estate for the past 25 years.
Jaime is a son of Fornalutx with family connections that pass many generations. He knows every inch of the Soller Valley including many houses that are not advertised for sale. He can secure introductions to properties and help in their acquisition. Indeed he has a remarkable skill in this area and a reputation for making the impossible happen.
Barbara relocated to Soller from Hamburg 20 years ago and soon became part of the excitement of the boom years in real estate here. As an incomer to this world she can appreciate the visions and dreams of the customers as they knock on the door looking for an entry to her world.
Jaime and Barbara know that the introduction to the beautiful houses of the Valley is the first part of their work. Thereafter it becomes more complex as often the houses of the Tramuntana need a little unravelling in their paperwork before sales can proceed successfully. The connections this team have with all the relevant authorities in Mallorca ensure a stress free service to their clients. Meetings and negotiations are held on the clients' behalf and successful outcomes are the goal.
Repeat business is a sign of success and Jaime and Barbara are honoured that so many repeat house sales are given to them. Relationships with the purchasers and sellers are very important to them. The languages spoken in this office are English, Mallorquin, Spanish, French and German.
Mallorca Gold welcomes everyone who is looking for a professional and personal real estate experience. 2021 will be a challenge for everyone worldwide due to COVID 19 and its consequences. Jaime and Barbara are confident that the Pandemic, as terrifying as it might seem, will also hold new opportunities and they look forward to working with you in the near future.

PROPERTY OF THE MONTH
Stunningly beautiful renovated townhouse with garden and pool and views of the mountains
7 bedroom - 606m2 living / 415m2 plot
3.480.000 Euro (click photo below)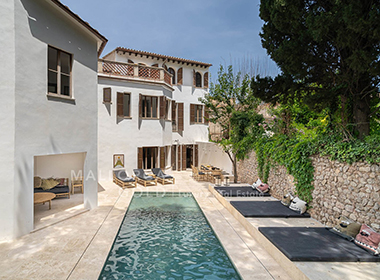 LOCATION
SOLLER - Av. de Cristòfol Colom, 2
WE OFFER
We speak English, French, German, Spanish & Mallorquin
Well established connections and intimate knowledge of the market
A professional and personal team
Knowledge of houses that are notadvertised for sale
HOW
---
Sign up for the SollerWeb newsletter: