Raft 19 Jardin
A little spot out of Soller for fish and chips, sticky ribs and a garden to relax in
As Soller ends and Biniaraix begins Raft 19 Jardin waits for you. A local restaurant with an International twist. The skills of Murray and Doro are here as they bring their talents from many influences in the world.
Raft 19 was born in Cala Gamba on the Playa de Palma. Locals soon came to appreciate the food and the friendliness of this neighbourhood restaurant. They flocked here leaving little room for the visitor who tried to book a table. A busy, buzzing restaurant oozing with different tastes was Murray's ambition. This has been achieved and Raft 19 is a loved restaurant overlooking the sea.
Raft 19 Jardin brings to the Soller Valley some of the favourites on the original Raft 19 menu plus new dishes to tempt the palate. Egyptian and Australasian influence abound alongside the much loved Fish and Chips and Sticky Ribs.
Raft 19 Jardin has the mountains and gardens of the Soller Valley surrounding them. They also have an orange tree garden to tempt you outside when the evenings are warm. Al fresco dining is a delight in this area and this is one of the few local restaurants with a garden.
Parties and special occasions can be accommodated in the garden and in the restaurant. Raft 19 Jardin is in a superb location for local people and all those who find them on walks and hikes past the door.
Raft 19 Jardin is the venue for outstanding food, excellent wine and friendly service. All the ingredients for a fine addition to the foodie scene of the Soller Valley.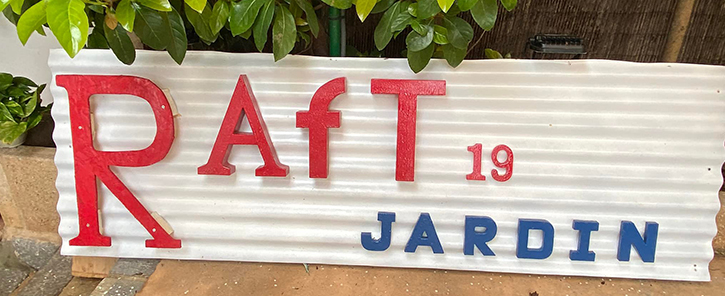 LOCATION
Carrer d'Ozones, 2 07100 Sóller - walk down Lluna and we are at the start of Biniaraix
OPEN
Thursday to Monday
Dinner: 18:00 to 22:00

Closed: Tuesday and Wednesday
WE HAVE
A range of great foods always served with a smile
Lovely orange tree garden to sit in and relax
Parties and Special Occasions catered for
A great place to stop before or after your walk to the Barranc de Binairaix
HOW
---
Sign up for the SollerWeb newsletter: