Vall i Art
The home of Artisan Products in Soller
Vall I Art is the brainchild of Ellie Mcnamee and Russ Barson. They have created a Contemporary Arts Centre and Shop displaying their work and that of island wide Artisans.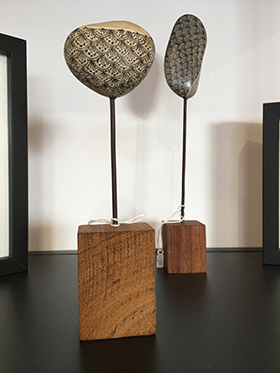 Ellie is an artist she paints huge works for the walls and small stone painting using exquisite detail. From Madrid originally she brought her paint brushes here and has been part of the Art Scene of Soller for a generation. Vall I Art is the place she wishes had been in existence when she arrived with her work in 2003.
Russ is the Theatre Arts man. From a career in design productions his path led him to teach the subject including design and stagecraft. He is a crafter and is constantly creating all manner of things which are sold in the shop.

After years working at the Artisans Market in Soller they have a feel for the needs of both artisans and customers. Vall I Art has been created around that knowledge. In addition to their work they rent out space to artisans who exhibit and sell their works on a monthly rental. The Artisans use the space and change the stock as often as they want. No percentage of sale price is retained; it all belongs to the Artisan.

This means that stock and talent is moving all the time and why you must buy when you see something you like. There is no guarantee it will be there next time you look.The artists just love this concept and are queuing up to get a space. The criteria are that none of the work is able to be bought anywhere else in Soller while they exhibit with Vall I Art.

Currently the arts and crafts represented include hand made greetings cards, ice dyed wool and knitted socks, a range of basket work made to traditional methods, soaps, jewellery some made with natural stone and leather and linen. Art, pottery and golden suns and moons all jostle for space here.

Vall I Art's location, next to Can Prunera Museum of Modern Art is deliberate. Many of the works in the shop are worthy of being next door, in Soller's MOMA.

Vall I Art has arrived in Soller with an idea that many will replicate and that artists and craftspeople love. All started and created with love in the Soller Valley.

LOCATION
c/ de sa Lluna 92, 07101 Soller (next to Can Prunera)
OPENING HOURS
Covid Opening Times
1030 to 1300
Tuesday to Saturday

We will be extending our opening hours as restrictions change.
WE HAVE...
Products from Mallorcan Artisans
Unique peices only for sale in Soller
Ideal for gifts, birthdays, weddings, Christmas, christenings
---
Sign up for the SollerWeb newsletter: