Bryn Hughes Artist
Artist
A passion for sketching, watercolours and the beauty of the Soller Valley brings the Bryn Hughes page alive. Bryn is a prolific artist and paints with an urgency and adrenalin which gives a completed work a day. The concentration is all absorbing while he contemplates a building and transfers it to the A4 sheet of paper in front of him. His working years in architecture have given him a particular style and interest in buildings and their place in our world.
A friend's introduction to Fornalutx in 1999 was the Hughes family time when they knew they had found their artistic place in the universe. They arrived in the Port looking for accommodation and as the chambermaid of the Generoso Hotel opened the blind in their hotel room they could not believe the beauty that lay in front of their eyes. The Port of Soller with the sunlight glinting on the boats and the mountains dipping into the sea. This was pure artists' heaven. Since that time they have visited the Port almost every year except one and stay at the Miramar Hotel where they are treated like family.
Bryn's preferred technique is to sit facing a building and draw directly in pen, normally without pencil pre-drawing, onto lightly textured A4 size watercolour paper. This method gives spontaneity since mistakes cannot be corrected and the adrenaline produced speeds up the whole process. Then, to keep the mood going at a fast pace, he immediately starts water colouring by painting in the dark windows. He finds putting the first strokes of paint onto paper the scariest step so he always starts in this way. He then continues with the rest of the water colouring dropping in yellow ochre, ultramarine or magenta to give those "happy accidents" that mixing watercolour directly onto the paper can give. Working quickly and with a light touch gives him a sense of immediacy and the best results.
Bryn transfers the artist's heaven into sketches, paintings and larger commissioned works. The finished articles are available by post from Bryn's own shop on his website. Some current local work is also available in Soller and can be viewed by contacting info@sollerweb.com to organise.
Bryn is an artist and an illustrator with a passion for the Soller Valley and the villages of the Tramuntana. Many homes have their 'Bryn Hughes Collection' corner and you dear readers are invited to join them…
Click here to read the article that appeared in the Mallorca Daily Bulletin on Sunday 11th October 2015.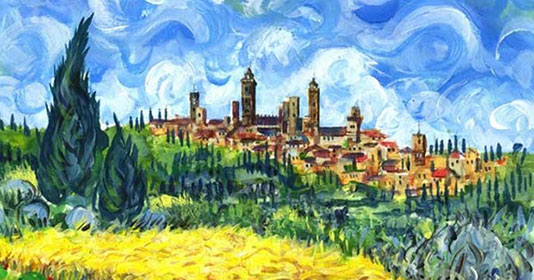 LOCATION
Sheffield, UK and Sóller, Mallorca
I OFFER...
Original watercolour and acrylic paintings in a range of styles
Drawings
High quality prints
Comissions for weddings or anniversary presents, property, your favourite building, architecture...
HOW
---
Sign up for the SollerWeb newsletter: