Engel & Völkers
Your partner to buy or sell property - We help you find your dream property on Majorca.
The Engel & Völkers shops in the Tramuntana cover the region from Estellencs to Fornalutx from two locations. Central Sóller and the heart of Deià. The team is based in these two beautiful areas ready to showcase the interesting and unique properties of this UNESCO area. To walk into the Engel & Völkers brand is to know that you are going to receive outstanding service from world leaders in Real Estate. There are over 800 shops in over 30 countries on four continents all adhering to the same high standards of integrity, service and interest in you and your requirements. The locations are all franchised to professionals who have chosen their location and are proud of their place in the process of buying and selling homes.
Engel & Völkers have a large team of Agents in the Sóller Valley who most live in either Sóller or Deià. A close knit group who work collectively to ensure their customers get the very best service.
Engel & Völkers are proud to present a full portfolio of properties for sale in the Valley at all price levels. All sales, whatever their value are given the same personal attention.
The Sóller and Deià based team are led by Eddy Barrera who is surrounded by colleagues as Friederike Jursch with many years experience of selling homes in the North West region of Mallorca. Amongst the team they speak Spanish, Mallorquín, English, German and French.
Engel & Völkers are a community based company who are proud of their local connections and involvement. They sponsor the Valldemossa Football Team, the Young cyclists Club in Deià led by Vicente Reynes, as well as the Festival de Música Clásica Port de Sóller. They support local ventures and charities and are proud of their contributions to local events.
Engel & Völkers look forward to being of service to you.

PROPERTY OF THE MONTH
FAIRYTALE CASTLE IN THE TOWN OF SÓLLER
14 Bed, 4 Bath, 2276M2 plot (ref: W-00S8N1)
2.900.000 € (click photo below)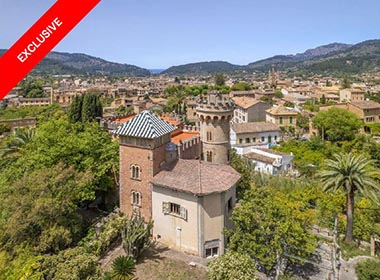 LOCATION
SOLLER - C/ de Bauça 4
DEIA - Arch. Luis Salvador 1
WE HAVE...
Multi-lingual team: English, German, Spanish, French
Many years experience
Friendly and professional team
Specialising in residential property
International brand / global network
HOW
---
Sign up for the SollerWeb newsletter: