Kingfisher
Restaurant and Bar
The beautiful kingfisher is the emblem for this prestigious waterside restaurant overlooking the Santa Catalina area of the Port of Soller. Krisztian and his team are hospitality specialists and bring all they have learned to this glorious place in the heart of the Tramuntana. Krisztian has lived a life dedicated to all aspects of good honest service. For guests to arrive at the door a stranger and leave a well satisfied friend is the ambition of this professional.
Krisztian travelled the world from the age of 19, learning the languages and skills that would bring him, as a restaurant owner, to the Port of Soller. His degree in Hospitality from Cornell University taught him the psychology of hospitality – a subject that is very dear to his heart and used daily to train his staff. After years of working successfully for prestigious companies and cruise liners he decided that the time was right to settle and open his own centre of excellence in the finest location – the Port of Soller.
The gold and pink of the mountains is the view that greets diners on the terrace of this restaurant as the sun starts to go down. The golden bowl of the Soller Valley is very evident from this location and is the backdrop to evening dining. The slight elevation, overlooking the harbour means that Kingfisher is a quiet location with no crowds or noise to spoil the beautiful ambience.
The menu follows an international cuisine with an emphasis on the best fish and meat from the local markets. Red Tuna and English style Fish and Chips (with mushy peas) have a place alongside Asian and other international food influences. The new menu this year includes old favourites alongside new dishes like the Baccalo Firo.
Kingfisher has re energised and given new life to an old location. The renovations and the work to make it fit for the Kingfisher to fly from are now complete. A very warm welcome is extended to all – holiday makers, travellers, local people, yachties and the seekers of great cuisine. Kingfisher looks forward to being of service to you all.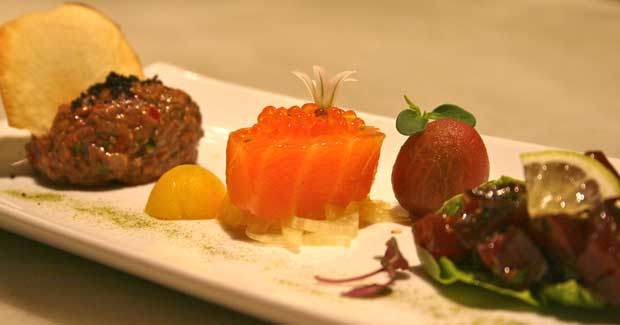 LOCATION
Calle San Ramon de Penyafort, Port de Soller
OPEN
Tuesday to Saturday
12:00 - 16:00 and 18:00 - 22:00
WE HAVE
Great view overlooking the yachts
A La Carte Menu
Daily Specials
Attentive staff
Fresh locally sourced food
Extensive aperitif, wine and coffee list
HOW
---
Sign up for the SollerWeb newsletter: