Lula Luca Ceramics, Workshops and Classes
Welcome to the world of Lula Luca. From Artisans Markets to pottery workshops this is an evolving world.
The kiln is always busy with the creation of tiles, bowls, dishes, soap dishes and so much more. New techniques are developed daily in this heart of creativity in Soller.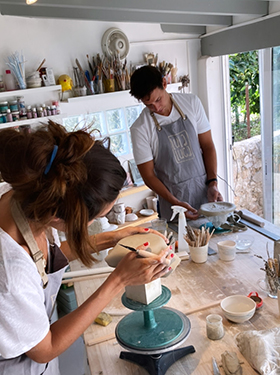 Lula Luca comes from a Fine Arts background with specialism in Advertising and in the creation of clothes. Art is a lifestyle here, not a subject. The restoration of furniture is of special interest to many in the Soller Valley. Ceramics classes for adults and children are held regularly with a devoted team of students.

To have the expertise of an Artist and creative designer has been welcomed in the Soller Valley. Many pieces of individually designed work live in local houses having found their start in the Lula studios. The Artisans markets give the opportunity for visitors to acquire individually crafted mementos of their time here.

There is choice in this world and there is the ability to describe what you are looking for and have it made to your specification. Some of the larger works which find their place in local gardens started on this basis. To talk and understand what the artist can do for you is a very special privilege available to all.

Lula Luca invites you to share her world and her work.
LOCATION
Costa de Llorenç n 2, Soller
WE HAVE...
NEW AND EXCITING - Exhibition showroom to buy handmade pottery and packs on sale for "do it yourself at home pottery"
Regular/Monthly courses:

Tuesdays 10am-12noon / 6pm-8pm

Wednesday 4pm-6pm / 6pm-8pm

Price: € 10 per hour (min 1 month) - materials extra.
Workshops, Birthday Parties, Private Sessions - contact for prices as this will depend on what you prefer to make - this could be to make a piece from scratch or to paint a premade piece. Please contact me to discuss as I tailor this type of session to suit your wishes and number of people attending.
Brand new studio with a friendly environment to learn in.
A fun way to meet new people on a course - or chat to me about private courses.
Ability to create many different ceramic creations
Custom Orders taken - please email me
HOW
---
Sign up for the SollerWeb newsletter: