Restaurant Luna 36
Luna 36 is to be found on the Lluna – the main shopping street of the City of Soller at Number 36.
A fine restaurant serving modern Spanish/Mediterranean cuisine by professionals who love their craft and their place in Soller.
Helle and Claudio have worked together in restaurant projects for many years and both love Soller and all that it has to offer. Their partnership in 2015 has brought this restaurant back to its place on the Lluna. Their Chef – Hector is a star who returns to the training ground of the masters at San Sebastian School of Gastronomy every winter to perfect his skills. For his winter course this year he is specialising in desserts and won the scholarship to take this training because of his outstanding qualifications from last years work. Hector is a fine Chef who is more than content to use his love of cooking and his special talents for the guests of Luna 36.
The team at Luna 36 have a vision to bring a fine dining experience to the Lluna. Frequent menu changes are envisaged allowing the chef to use the best seasonal produce available.
The numbers of satisfied diners speak for themselves and Lluna 36 love the comments that kind guests have written on Tripadvisor about them. The need is there to extend the restaurant so that all who wish to join them can have a great food experience. They hate to turn people away so this is the job for the winter to create space for more tables.
The restaurant is open from dinner on Monday to dinner on Saturday – closed all day Sunday and Monday at lunchtime.
Lluna 36 looks forward to welcoming you to the heart of the City of Soller to enjoy food, wine and service at its very best.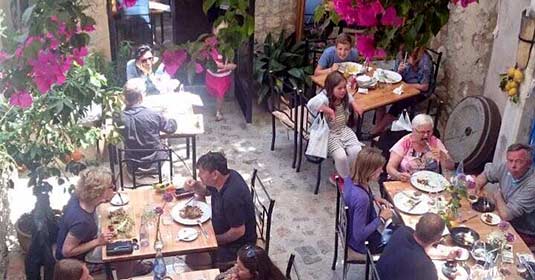 LOCATION
Calle la Luna 36, Soller
OPENING HOURS
Monday 18 - 22 hrs
Tuesday - Saturday 12:30 - 15 / 18 - 22 hrs
Sundays closed
WE OFFER
Great location right in the heart of Soller with a lovely secluded court yard in an old building from 1870
Mediterranean food out of local products
Friendly personal Service
Parties and Events
HOW
---
Sign up for the SollerWeb newsletter: