O A S Services in Soller
Optician and Audiologist
Alba and Aitor are the Optician and Audiologist in this beautiful new space in the Lluna.
They worked together in Palma and found many of their customers were making the journey to attend their clinics and shop. They have now relocated to the prime shopping street in Soller and many happy local customers find them.
Alba and Aitor are mainland trained, in Barcelona and Madrid before relocating to Mallorca. They bring an all-round personal experience for eyes and ears in this new venture for them.
The Audiology Services include testing and check-ups on the ears and the provision of the latest hearing aids. A two to three-week free trial period for the aids begins the process. Adjustments and support through the period of getting used to the aid is part of the service.
Made to measure Ear Plugs are available here from OAS. Many, including children need earplugs when they swim. The delight of having them made to measure is a pleasure every time. Loud noise work and concerts are other reasons why adults look for the 'made to measure' ear plug available here.
Hearing Aids are a major financial investment and OAS work with the Bank of Santander to evolve an interest free payment plan. This can be worked out from 3 to 36 months repayment time.
The Optician Services cover full testing on the latest, newest equipment. A full range of designer and local frames are on display. A full range of services for contact lens users plus glasses and contact lenses for sports are available here. A free trial for contact lenses is also offered.
A full price range on products starts with a free eye test. The final cost for your eyewear can be paid for with the Bank of Santander interest free payment plan. There is also an express 24 hour service to do prescription glasses on single vision and 4-5 days on multifocal glasses.
A full range of sunglasses surround the shop and give a great choice. Sunglasses are essential in a country where the sun shine for 320 days a year. A unique selection is found here.
OAS exist to provide a friendly, caring service to all clients as they make decisions about their hearing and their sight. They look forward to meeting you soon…

LOCATION
Carrer de sa Lluna, 33, 07100 Sóller, Illes Balears
OPENING HOURS
Monday to Friday 10-20h
Saturday 10-14h

WHAT WE OFFER...
Free eye tests
Free hearing tests
Expert staff to analyse what you need for both your sight and hearing
A huge range of glasses, sun-glasses, contact lenses and hearing aids to suit all price ranges.
A friendly and understanding service.
Spanish, Catalán, French and English Spoken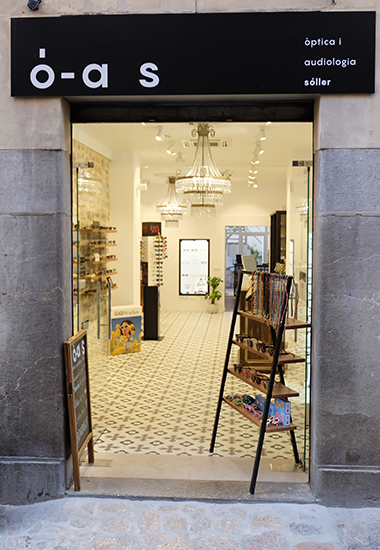 ---
Sign up for the SollerWeb newsletter: