Restaurante Sa Frontera
Sa Frontera is open for business and by public demand. This location is a favourite stop for fine diners and cyclists passing through. The menu represents this with a Snack menu, Menu del Dia and A la carte choices.
Open from Thursday to Monday from 9am to 5pm .... and Friday and Saturday evenings from 6.30pm to 10pm.
The husband and wife team of Joaquín and Gema are passionate about their new venture and love of sharing interesting dishes and tastes. They met at Hotel School in Seville and little dreamt that running their own restaurant in the Soller Valley would be their destiny.
Joaquín worked for 5 years as a chef in Sóller, before embarking on his own culinary projects. His knowledge of the local gastronomy and his inspiration from local produce make him passionate about transforming any food into a delight to enjoy!
The menu, created by Joaquín, is an eclectic fusion using the influences of Seville, Korea, Italy and traditional Mallorcan tastes.
Sa Frontera has a great terrace and this is the summer preference for many, In addition they have the 40 seat capacity of their inside restaurant. This will come into its own in the cooler months around the log stove.
There is also a children's area inside with games so everyone can have a great time on a family meal out.
The inside space is great for private gatherings for pre wedding functions and dinners. A small car park adjoins the property and there is plenty of street parking.
Sa Frontera and the new team welcome you to enjoy the food and the friendly ambience. Locals, visitors and cyclists are all very welcome…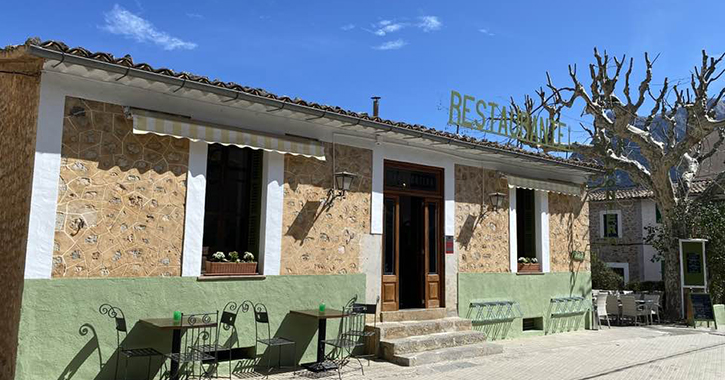 LOCATION
Carretera de Deià, s/n, Sóller, Mallorca.

Go past the indoor swimming pool (Son Angelats) heading to Soller. Sa Frontera Restaurant is on your left.

Parking just after the restaurant on your left.
WE ARE OPEN
Thursday to Monday 9am to 5pm
and
Friday and Saturday 630pm to 10pm
WE HAVE...
A large range of food and a menu del dia
A fabulous relaxing outdoor area to stop for a coffee in the morning.
The ideal place for a stop on your bike tour
Friendly atmosphere
Childrens area inside with games and fun things to do
Stove inside for cosy winter meals
Private bookings / Pre Wedding / Parties up to 40 people catered for
HOW
---
Sign up for the SollerWeb newsletter: