XC Properties
Xisca Coll and her company, XC Properties, is a truly friendly, local and independent Estate Agent of Soller.
Her company was created after she had served a ten year real estate apprenticeship with Engel & Volkers. Her own intimate knowledge of the Soller Valley and its people stands her in good stead to advise and negotiate on her clients behalf. Xisca was born in Soller and continues to live here with her own family. She understands the Valley and the way things work and created her own business to be a professional, personal Estate Agency with time to consider the needs of individual clients.
The buying and selling process can seem complicated but XC Properties will assist and guide in all aspects. Negotiations with the Town Hall on your behalf are done on a daily basis by staff who know the officials well. The same goes for getting connected to the essential services i.e. water, gas and electricity - XC Properties will assist in all details to achieve peace of mind for the buyer and seller alike.
Many houses are sold in the Soller area that need full or partial refurbishments. XC Properties have connections with building firms who can undertake this work and have a portfolio of testimonials from satisfied clients. If you wish to use this service then XC work with the builder, architect and lawyer to ensure that projects are carried out to the highest level of satisfaction.
Xisca and her team have command of a number of the languages essential in Soller Real Estate. It is possible to communicate in Spanish, Mallorquin, French, English and German.
The job satisfaction that Xisca and her team experience on a daily basis is the pleasure of introducing new people to the Soller Valley. The sharing of the beauty of the place and the outstanding real estate opportunities make this a labour of love. XC Properties from their offices near the Post Office of Soller are centrally placed to look after the needs of the buyers and sellers of Soller Valley. They look forward to welcoming you and introducing you to the many homes for sale and rent that exist in this unique place.

PROPERTY OF THE MONTH
Beautiful Stone house with garden in great location in Sóller
3 bed
1.100.000 € (click photo below)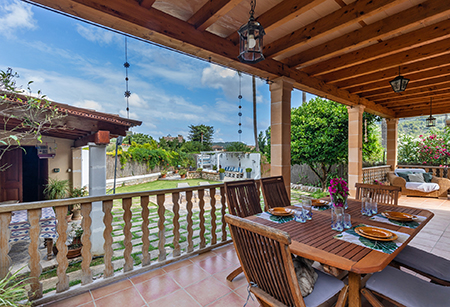 LOCATION
SOLLER - C. Rectoria, 13
OPEN - Mon-Fri 09.00-18.00
WE HAVE...
Languages Spoken - English, German, French, Spanish, Mallorquin
Soller Born and Bred
Help with all aspects of the buying process and getting settled in
Advice and contacts for home refurbishment
HOW
---
Sign up for the SollerWeb newsletter: