ST. BARTHOLOMEW - ST. BARTOMEU - the Patron Saint of Soller
The Fiesta of Saint Bartholomew – every year from 20th to 25th August - or thereabouts... Saint Bartholomew is one of the twelve apostles and credited with the conversion of people in Armenia.
---
After the conquest of Mallorca in 1229 a part of Soller was given as a gift to the Church to thank them for their help.
Ferrer de St Marti from Catalonia was in charge at the time of the conquest and he gave orders for the church of Saint Bartholomew to be built. It has undergone various stages in its long history and these days is a beautiful Gaudi style building (at least the front is).
St Bartholomew celebrates his saints' day on August 24th each year and it is around that time when the Fiesta of San Bartholomew comes to its climax in Soller.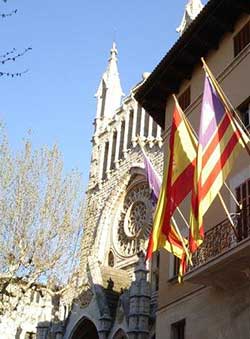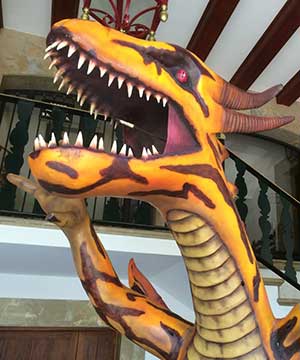 The Fiesta is the excuse for a week long celebration of life and the wonderful place that is the City of Soller. Music, theatre, art, children's events and entertainments take place in all the venues around the centre. You need a daily calendar of events to make sure you don't miss the best events. A list of activities can be found at the Tourist Information Office or online at www.sollerweb.com on the Events Calendar.
The most spectacular night of the Fiesta is when The City is set to firecrackers and fireworks and the Night of Fire explodes on us. The drummers and the demons weave amongst us causing fear and drama and then the Fire Run begins. The dragon breathes fire and lets out mighty roars.
The City seems to blaze as the eternal fight between good and evil takes place. This year skeletons and the clash of the titans are the overwhelming theme designed to scare and exhilarate. The Fiesta comes to an end after three days of music lasting through the night, a fairground and endless entertainment and activity. Not surprisingly the day after the main festivities is a local Bank Holiday in Soller and the place just sleeps and sweeps up until next time. They are content that good has overcome evil again and that all is well in their Soller paradise.
---
Sign up for the SollerWeb newsletter: